Welcome

About Us

Firefly Bows

Arrow Building

Feathers & More

Carbon Arrows

Tusker
Broadheads

Zwickey Broadheads

Eclipse / Simmons Broadheads

VPA Woodsman
Broadheads

Magnus
Broadheads

Strings and Accessories

Quivers

Leather Goods

Points & More

Sharpening

Contact Us

Order

Photo Gallery


About Us

Tim was raised in the Black Hills of South Dakota. There he developed a great love of the outdoors, with hunting soon becoming his favorite pastime. Looking to broaden his hunting experience, bowhunting was a natural fit.

Over time bowhunting went from an extension to an obsession. As the firearms gathered dust, the traditional archery bug bit Tim hard. Today Tim hunts exclusively with a bow and usually with traditional equipment. Tim has over 20 years of bowhunting experience and has taken deer, wild hogs and numerous small game animals with his bows.

Braveheart Archery "fell out of the sky" as Tim jokingly says, in the Fall of 2005. Drawing on a strong background of discount retail sales and Tim's affection for the Grizzly broadhead, Braveheart Archery was born as a Grizzly & Wolverine Broadheads dealer. Sales boomed and Braveheart Archery quickly grew to what it has become today, and we're still growing. Check back to see what we've added!

Tim is best described as a man of faith and integrity, a devoted husband and father of five budding archers. Passionately family orientated, it was only fitting that Braveheart Archery would be a family business. We are committed to giving you the lowest delivered price with the best possible service. You are invited to find out why so many of our customers are repeat buyers.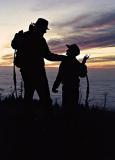 photo credit: Jerry Gowins