Carbon Arrows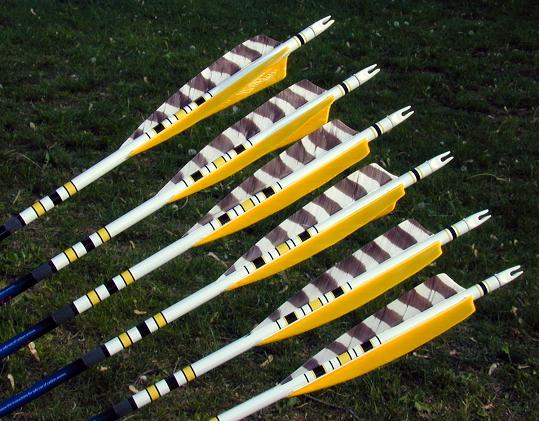 Braveheart Carbon Hunter arrows, made from Carbon Express Predator II shafting to give you top quality and value all in one package. The Braveheart Carbon Hunter arrows wide range of spines cover the needs of most traditional bows and feature above average mass weight for better penetration. Made with traditional tastes in mind, featuring three True Flight 5" shield left wing feathers, with gray barred cock feather and yellow hens, white nocks and matching wrap. Enjoy the flight, penetration and durability advantages of the Braveheart Carbon Hunter arrow on your next hunt. Nocks and inserts included, .006 straightness. Custom fletch colors and right wing fletch also available, but please allow extra time for delivery. Additional nocks and inserts are also available for all sizes, see under shafting listed below.

NOTE: Additional shipping charges will apply to all buyers outside of the U.S.A.
Braveheart Carbon Hunter / CE Predator II specifications:
20/40 - .600 spine, Max. length 30" B.O.P. - 7.7 g.p.i.
30/50 - .500 spine, Max. length 30 1/4" B.O.P. - 8.3 g.p.i.
45/60 - .400 spine, Max. length 30 3/8" B.O.P. - 8.8 g.p.i.
60/75 - .340 spine, Max. length 31 1/4" B.O.P. - 9.7 g.p.i.
Please note: The 20/40 and 30/50 arrows are slightly undersized to maintain weight in the lower spines and take slightly smaller nocks and inserts. Aftermarket nocks, inserts and insert adapters will not fit the 20/40 and 30/50 arrows and shafts. Please use the special CE nocks and inserts provided below for the Predator II 20/40 and 30/50 arrows and shafting.
For arrows cut to length, please purchase below and add a note to sale or e-mail specifying your desired length, from the throat of the nock to the back of the point. Arrows and shafts that have been cut to length or had inserts installed can not be returned.