Welcome

About Us

Firefly Bows

Arrow Building

Feathers & More

Carbon Arrows

Tusker
Broadheads

Zwickey Broadheads

Eclipse / Simmons Broadheads

VPA Woodsman
Broadheads

Magnus
Broadheads

Strings and Accessories

Quivers

Leather Goods

Points & More

Sharpening

Contact Us

Order

Photo Gallery



Sharpening Page 1 of 5
MAKE IT SHARP!

A broadhead sharpening method: by Tim of BRAVEHEART ARCHERY.

Sharpening is rather unique, as what seems to work for one person won't always work for the next. Anyone who has ever successfully sharpened anything had to be taught, one way or another. The purpose of this tutorial is not to lift myself up as some sort of expert on sharpening, I'm not. But I have found through hours of painstaking trial and error a few methods that have reliably worked for me on a multitude of broadheads. I will attempt here to successfully train you in those methods, and it is my sincere hope and belief that they will work for you. If they don't, please don't give up the search there is a method out there that will. Sharpening broadheads is not the witchcraft it has sometimes been made out to be! As BRAVEHEART ARCHERY is a Grizzly & Wolverine Broadheads dealer much of this will deal with using my methods on the Grizzly broadhead, but I have found this process to work well on almost any broadhead including replaceable blade types such as the Thunderhead.

I have found a couple of inexpensive tools that I have been able to use with great success. The first of these is called the "Redi-Edge". It is a small carbide sharpener available at many retailers and is usually priced around $20. The second is a "Smith's Tool" which is a broadhead wrench and sharpener in one. The Smith's also has carbide sharpeners, is usually priced at about $7 and is also readily available. My method is based on the use of these two inexpensive tools. (And just in case your wondering this is not a sales pitch, BRAVEHEART ARCHERY does not carry these items I use them because they work!)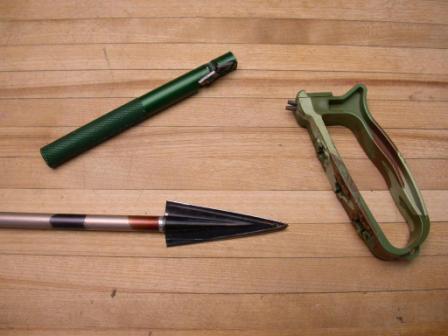 The Redi-Edge, the Smith's Tool and a wicked sharp Grizzly.