Welcome

About Us

Firefly Bows

Arrow Building

Feathers & More

Carbon Arrows

Tusker
Broadheads

Zwickey Broadheads

Eclipse / Simmons Broadheads

VPA Woodsman
Broadheads

Magnus
Broadheads

Strings and Accessories

Quivers

Leather Goods

Sharpening

Contact Us

Order

Photo Gallery



Firefly Bows
by Jim Jones
Braveheart Archery is honored to introduce to you Firefly Bows, exclusively crafted by Jim Jones. We have found these bows to be exceptionally well made, exhibiting stunning craftsmanship and great shooting qualities. Like many of our items at Braveheart Archery, Firefly Bows represent a unique, high quality offering and an exceptional value all in one package. To purchase or inquire about one of our listed bows, please feel free to contact Braveheart Archery at:
Jim Jones also welcomes any questions you may have. To reach him directly or even arrange the building of your own special Firefly Bow contact Jim at: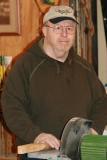 I'm Jim Jones of Firefly Bows. I started making bows for myself and a few friends nearly twenty years ago in 1988. Due to enthusiastic response and encouragement from some close friends, I decided to fulfill my passion for building bows and Firefly Bows was born.

I've collected over two hundred different bows over the years, and I've utilized the very best points of many of those bows to design the Firefly. I have experimented and evaluated various designs, continually searching for ways to make my bows ever better. Having tried and tested many different formulas, I ultimately chose to focus on a three piece, radical deflex/reflex designed, take down longbow. I've developed a limb featuring carefully crafted pre-loaded tips. They produce smoothness of draw and stability at the shot, but without stacking. Adding just the right balance of core material, there is little or no hand shock.

My unwavering standard of a high quality bow must have specific features built into it. The bow must be quiet, yet deliver strong performance. It must have little or no hand shock, but with reasonable mass weight. And the bow must be durable, reliable and mobile, with a comfortable grip and pleasing cosmetic appearance.

Every Firefly Bow is crafted by myself alone. From design to grinding lamination's, to the final finished bow, every single aspect has my personal touch. I believe I have created an outstanding performing bow, yet at a very reasonable price.

All Firefly Bows bear my unique logo, " Firefly Bows James 4:14". James 4:14 is a favorite bible scripture of mine that says; "We are a vapor for a little while that vanishes". I relate this verse to the flight of the arrow, which flashes away and then disappears, much like our lives. My hope would be that when you read the logo, that as I am you would be reminded to think about where your life is headed.

Thank you for your interest in my bows. Maybe one of them is to be your faithful companion for many years. Shoot straight and pick your spot!

Jim Jones
Firefly Bows


Firefly Bows - 3 Year Limited Warranty

Firefly Bows are 100% warranted for one full year, to be free of any defects due to craftsmanship or materials under normal use. Firefly Bows are additionally warranted up to three years at just the cost of replacement materials if needed. Labor will be performed by the bowyer at no extra cost to you on covered repairs.



Click On Pictures For Detail - Use Browser Back Button To Return Here.

More Firefly Bows? (Click here) To See In Stock Bows (Click here)