Points & More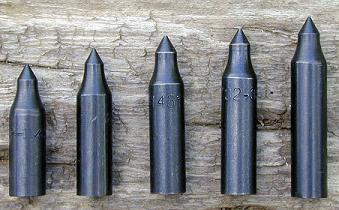 Glue on style
11/32 field points for 11/32 or 23/64 wood shafts, or use with adapters to create your own unique screw in point. Sold in 6 packs.

Glue on 11/32 field points - 100, 125, 145, 160 or 190 grains - $2.89 per 6

23/64" Points
Glue on 23/64" field points - 125, 145, 160 or 190 grains - $2.89 per 6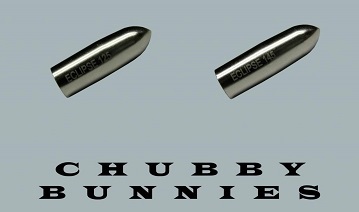 Chubby Bunny glue on field points, 125 and 145 grains sized to fit both 11/32" and 23/64" shafts. Nickel plated, laser etched and designed with a slight bulge in the middle which reduces penetration into the target, promotes easier arrow removal and a great reduction of target burn and finish damage on your wood arrows.
Hot Melt Glue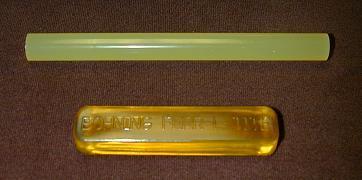 AMG Super 735 low temp hot melt stick. A great adhesive for all arrow materials including carbon shafting (do not apply heat directly to carbon shafts). Super 735 does not get brittle and is an excellent choice for cold climates.



Bohning Ferr-L-Tite hot melt glue, use for mounting broadheads and field points on wood shafts or glue in adapters, or installing inserts in aluminum arrows.


Screw In Field Points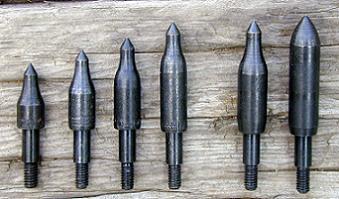 Convenient screw in style 5/16 field points work well with standard sized carbon arrows and aluminum arrows in popular sizes up to 2020. Sold in 6 packs.
NEW 75 grain 17/32 combo point (.700/.800 shafts) 6 pack.-$2.89
Screw in 5/16" field points - 100, 125, 145 or 175 grains - $2.89 per 6

Heavyweight screw in field points, sized for standard sized carbon arrows and all aluminum arrows 5/16 and up.
Available in 200, 225 and 250 grains - $4.59 per 6, 300 grains - $5.59 per 6.

Adapters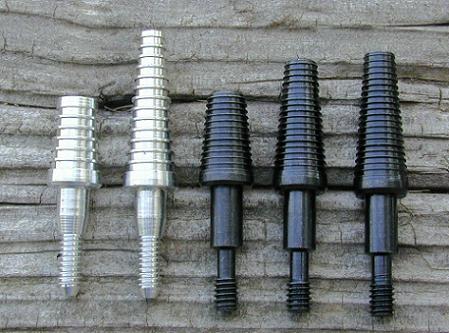 We offer 11/32 32 grain short broadhead or 42 grain long broadhead adapters for aluminum or carbon arrows. Need a heavier punch? Choose from our 11/32 standard steel adapters available in 75, 100 or 125 grain weights or our new Deluxe zinc coated 100 or 125 grain 11/32 adapters for maximum strength and corrosion resistance.

Standard aluminum adapters, $3.99 per 6
Sweetland X-Long aluminum adapters, $3.99 per 6
Standard steel broadhead adapters, $3.99 per 6
Deluxe zinc coated steel adapters, $7.49 per 6
A-S036 Sweetland X-Long 36 grain 11/32 adapters 6 pack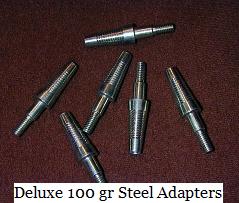 Carbon Arrow Inserts and Adapters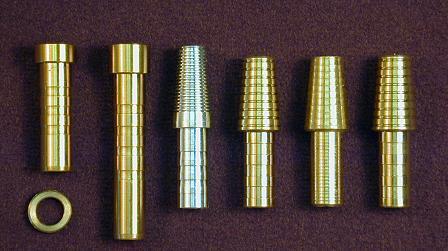 Brass inserts and insert/adapters conveniently enable you to add point weight to your carbon arrows. Fit most standard internal component carbon arrows such as Gold Tip, Carbon Express and Vapors. Choose from 50 or 100 grain brass inserts or 75, 100 and 125 grain brass insert/adapters for 11/32 glue on broadheads. We also offer 22 grain aluminum insert/adapters for 5/16 glue on broadheads and 5 grain 5/16 brass washers for fine tuning. Sold in 6 packs.

Woody Weights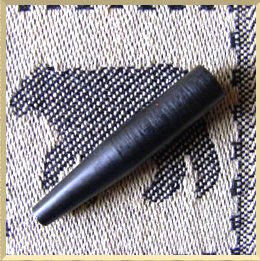 Woody Weights allow you to significantly boost your point weight for greater overall arrow weights and high FOC flight and penetration benefits. Simply glue the Woody Weight to your arrow taper and then apply the point of your choice. Sized at 11/32" for 11/32" or 23/64" shafting. Sold in 6 packs.

Woody Weights - 75, 100, 125, 150, 175 or 200 grains - $10.99 per 6